The 80s – Golden Era Of Teen Movies
OK, it's not a secret, the 1980s were one of the greatest decades for the film industry in general. We can only stand still and be amazed when we look at the titles from those years. The Terminator, Full Metal Jacket, Scarface, Platoon, Die Hard, Aliens, The Shining – just to name a few. Not to mention movie soundtracks from this decade; Beverly Hills Cop, Dirty Dancing, Footloose, Flashdance. Masterpieces for all times.
Today, however, we are focusing on teen movies from that time. It was rather hard to choose three titles from this genre, but here is our list of Top 3 Movies Of The 80s Every Guy Should See. And a reason why we chose them.
Ferris Bueller's Day Off (1986)
High school senior Ferris Bueller takes a day off from school, faking that "he doesn't feel well". He takes his girlfriend Sloane and his best friend Cameron on the adventure of their young lives. Ferris talks Cameron into taking his father's precious 1961 Red Ferrari 250 GT California and they take off on a wild journey through Chicago.
This movie gave the teens a roadmap to the way of how to party, enjoy life, appreciate art and also confirmation that it's completely OK to do things in unconventional and alternative ways. Sometimes. If you see this movie again you will definitely feel a need to fake a sick day at the office and take your friends to barbecue in the wild.
Weird Science (1985)
Most probably the first movie in which you saw Robert Downey Jr. Also most probably the last movie you watched Kelly LeBrock acting. Why exactly is this movie so great? Well. Two guys, Gary and Wyatt design their ideal woman on a computer. This already sounds perfect, right? Some strange electric accident happens that brings her to life in the form of superhuman Lisa (Kelly LeBrock).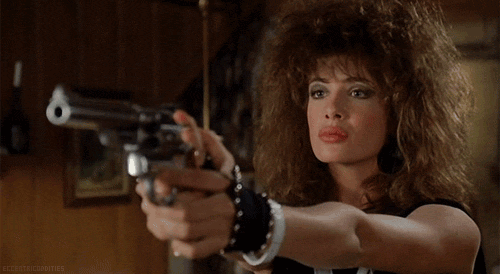 Lisa outfits Gary and Wyatt in cool clothes, surprises them with a Porsche 928 S and helps them to become cool, popular and wanted among girls. They soon make a party of their lives with Lisa's great support and fall in love with girls whom they could only dream of before. Watch this movie for two reasons – see Kelly LeBrock acting and remind yourself of how parties sometimes look alike. And then make one of your own!
Back to the Future (1985)
This one is a classic. California teen Marty McFly time travels to 1955 by accident and lands in the time when his parents are supposed to meet. Not only that, but a set of circumstances throws him in situations in which he must make sure his high-school-age parents unite in order to save his own existence in the future. The movie is filled with great and legendary dialogs.
In addition to great dialogs, the movie brings us great technology ideas and gadgets kids today still dream about. Things like hoovering skateboards, self-lacing sneakers, self-drying jacket and of course DeLorean Time Machine – are just a few worth a mention. Definitely watch this movie to remind yourself that "if you put your mind to something, you can accomplish anything"!
If you like what you read, read more in our pop culture pages here.
And don't forget to follow us on Instagram too!